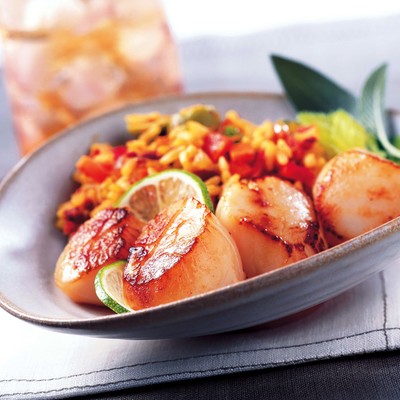 Seared Alaska Scallops in Saffron Arroz
Serves 12
Ingredients:
1/2 cup canola oil
48 Alaska Weathervane Scallops, cleaned
Salt, as needed
12 cups Saffron Arroz, warm (see recipe)
1 1/2 cups lemon butter, melted, warm
Black pepper, fresh cracked, as needed
6 Tbsp. fresh cilantro, chopped
Saffron Arroz:
3 Tbsp. canola oil
3 tsp. garlic, minced
3 tsp. jalapeño, minced
2 1/4 cups carrots, small dice
2 1/4 cups celery, small dice
2 1/4 cups red onion, small dice
1 1/2 tsp. saffron threads
6 cups long grain rice
9 cups chicken stock
1 1/2 cups roasted red bell pepper, small dice
3/4 cup green olives, pimento stuffed, sliced
3/4 cup chorizo sausage, casing removed, sautéed
Directions:
To make 1 portion:
1. Heat a skillet until almost smoking. Add 1 Tbsp. canola oil.
2. Season 4 scallops lightly on both sides with salt.
3. Add the scallops to the hot pan and sear on one side until a rich dark brown, 1-2 minutes, turn and repeat on second side.
4. Place scallops on serving plate and serve with 1 cup Saffron Arroz.
5. Drizzle with 1/8 cup of warm lemon butter.
6. Garnish with fresh cracked black pepper, and sprinkle with 1/2 tsp. of cilantro.
7. Ready to serve.
Saffron Arroz:
1. Heat oil in sauce pot over medium heat.
2. Add garlic, jalapeño, carrots, celery and onion, sauté until tender.
3. Add the saffron and rice, cook until lightly browned.
4. Add chicken stock and bring to a boil.
5. Cover, reduce heat and simmer until rice is done, 20-25 minutes.
6. Fold in roasted peppers, olives and chorizo, hold warm.
Yeilds 12 cups