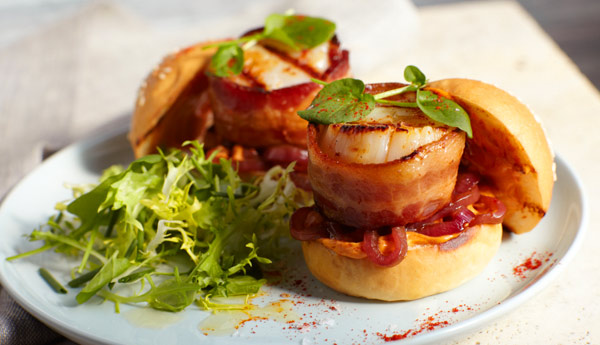 Bacon-Wrapped Alaska Scallop Sliders
Serves 12
Ingredients:
Bacon Wrapped Alaska Scallops:
16 Alaska Weathervane Scallops, 10/20 ct., patted dry
16 bacon slices, fully cooked to pliable, not crisp
Smoky Mayonnaise:
2 cups mayonnaise
4 tsp. paprika, smoked
Balsamic Onions:
1/8 cup olive oil
1 lb. red onions, 1/8 inch slice
1/8 cup balsamic vinegar
Assembly:
16 hamburger buns, mini, split
16 pieces leaf lettuce, 3 inches each, washed and dried
Directions:
Bacon Wrapped Alaska Scallops:
Wrap each scallop with one piece of cooked bacon. Cover and refrigerate until needed.
Smoky Mayonnaise:
Combine ingredients, stir until well blended. Refrigerate. Can be made the day before.
Balsamic Onions:
Heat olive oil and add onions. Sauté until onions begin to soften. Add balsamic vinegar and simmer 1 minute. Keep warm.
Directions per Serving Assembly:
Preheat grill. Grill two bacon wrapped scallops for 3 minutes, turn and cook for 3 more minutes or until scallops are opaque and bacon is crisp. Place 2 mini buns on grill and lightly toast. Spread 1 tsp. of Smoky Mayonnaise on each side of grilled bun (2 tsp. per bun). Lay 1 oz. of balsamic onions on bottom of each bun, top with bacon wrapped scallop, 1 lettuce leaf, and bun crown.
Alternative Serving Suggestions:
Skewer 3 bacon wrapped scallops and serve on a bed of baby greens. Drizzle with olive oil. Dust with salt and pepper and top with shaved Parmesan cheese. Serve with lemon wedge.
Cut bacon wrapped scallops into disks. Place on pizza crust with Alfredo sauce, Mozzarella cheese and pesto. Bake until cheese bubbles. Slice into small wedges.